The HP MX10 Retail Point of Sale Solution and SYNNEX Corporation
Not a SYNNEX reseller/customer?
HP MX10 Retail Point of Sale Solution
Adapt to the sales flow to meet customer needs and deliver an exceptional experience anytime, anywhere. With the HP MX10 Retail Solution, it's a snap to transition from a fixed POS to a mobile service – and back. Verify prices, search inventory, and complete sales transactions to make the most of every sales opportunity.
Switch to counter service in no time. Just snap the mobile unit into its docking station for a complete POS solution that integrates into your existing infrastructure. Enhance customer service and put your POS power tools to work for you. Dock at the sales station and connect all of your peripherals via serial, USB, and RJ-45 ports.
Learn more about the HP MX10 Retail Point of Sale Solution:
Call a SYNNEX rep at (800) 456-4822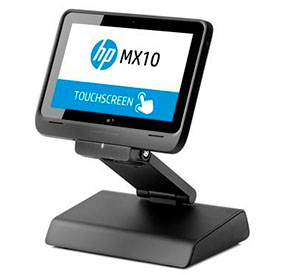 All models of the HP MX10
Click on the part number below to purchase from SYNNEX ECExpress online ordering tool
Choose one of the ElitePad Bundles below (#s 1-4) and then add on the dock (#5) to complete a MX10 solution. Other peripherals like printers, scanners, etc. can be added to the solution for more needs.
Solution includes ElitePad + Retail Jacket with or without battery
Part Type
Part Number
Description
MSRP
1
F2Q00UT#ABA
HP ElitePad Mobile POS , Intel® Atom™ Z2760, 2 GB, 64 GB SSD, Intel® Graphics Media Accelerator 533 MHz, Windows 8 Pro, 10.1-inch diagonal WXGA ultra-wide-viewing angle display (1280 x 800), 802.11a/b/g/n 2x2 WiFi + AR3002 BT4.0 Combo Adapter,

Includes Retail Jacket w/o Battery

$1,399
2
F2Q04UT#ABA
HP ElitePad Mobile POS , Intel® Atom™ Z2760, 2 GB, 64 GB SSD, Intel® Graphics Media Accelerator 533 MHz, Windows 8 Pro, 10.1-inch diagonal WXGA ultra-wide-viewing angle display (1280 x 800), 802.11a/b/g/n 2x2 WiFi + AR3002 BT4.0 Combo Adapter,

Includes Retail Jacket w/ Battery

$1,449
3
F7W33UT#ABA
HP ElitePad Mobile POS , Intel® Atom™ Z2760, 2 GB, 64 GB SSD, Intel® Graphics Media Accelerator 533 MHz, Windows 8. 1 Pro, 10.1-inch diagonal WXGA ultra-wide-viewing angle display (1280 x 800), 802.11a/b/g/n 2x2 WiFi + AR3002 BT4.0 Combo Adapter,

Includes Retail Jacket w/o Battery

$1,399
4
F7W34UT#ABA
HP ElitePad Mobile POS , Intel® Atom™ Z2760, 2 GB, 64 GB SSD, Intel® Graphics Media Accelerator 533 MHz, Windows 8 .1 Pro, 10.1-inch diagonal WXGA ultra-wide-viewing angle display (1280 x 800), 802.11a/b/g/n 2x2 WiFi + AR3002 BT4.0 Combo Adapter,

Includes Retail Jacket w/ Battery

$1,499
5
F3K89AT#ABA
Promo HP Retail Expansion Dock for ElitePad US
$459